We love to shout about the successes of our talented group of neurodiverse artists. But do you know anything about our team of professional Artist Facilitators?
In a new series of blogs we'll be providing more insight in to how we develop our artists' talents by talking to the Artist Facilitators who run our busy Art Studio. First up is our Illustration and Animation specialist, James Pollitt.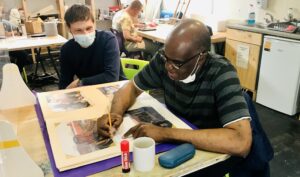 How long have you worked at Venture Arts and what attracted you to the organisation?
"I started in January 2009. I had been volunteering and freelancing at another organisation, Studio One, which was a NHS mental health provision. I really enjoyed this work for many reasons, and it was amazing to regularly meet with artists who worked in such a different way to me. But from a selfish point of view I needed a creative outlet that took me away from my own illustration practice. So I began looking for connections with other arts organisations that had a social buzz and worked with a wide variety of artists of different abilities and backgrounds. Venture Arts stood out as somewhere special, that would be a dream to work for and I was lucky enough to get an interview for a new role."
Tell us about your own artistic practise.
"After years working in medical publishing and trying to break into children's book illustration I decided I wanted a new challenge. So, for the past 5 years I have been producing some experimental stop-motion animated films starring some puppets made from repurposed and up-cycled objects. I'm no expert, and my work is all about challenging myself and learning as I go. Funding is hard to find for animation, so my projects are also an experiment into how to sustain an idea through the sale of merchandise, replica models and raffle tickets.
My main project is called 'Whibbits!' starring little dogs made from random stuff, more info at
www.whibbits.com.
I've done lots of little films, and sold lots of whibbit models. Most recently I did a pre-order campaign for a 'Whibbits!' children's book, which funded the creation of the book and a limited edition print run to sell in some local book shops."
How does working at Venture Arts support your own artistic development?
Venture Arts is amazing for allowing me to explore a huge variety of techniques and processes that I wouldn't necessarily do in my own work. These explorations come from working directly with our artists and I enjoy the challenge of working with someone to figure out how to make their ideas and develop their practice. It was after the stop-motion experiments that I did with Venture Arts artists that I decided I wanted to give it a go in my own time.
What is your approach to supporting Venture Arts artists and how do you develop ideas with them?
"As well as individual projects I like to introduce new techniques, processes and materials to the groups I work with. These are often very broad, with lots of discussion points and scope to take them in different directions. Sometimes these workshops are fun little projects, and sometimes artists will find something new that they enjoy and have a talent for. Often individual 'learner led' projects develop from these initial sessions that are unrecognisable from the original starting point.
What has been your proudest moment at Venture Arts?
I've been particularly proud seeing the artists, and Venture Arts, generally taken seriously in the art world. This applies to Venture Arts as a whole, but the specific projects and artists I have been involved with being shown and sold in mainstream venues alongside the best in contemporary art is a real privilege, such as The Whitworth acquiring Barry Finan's work for their collection and Leslie Thompson selling work at the Manchester Contemporary.
How would you describe Venture Arts in three words?
Genuine, bold, heart (full of!).