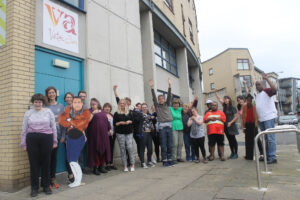 Venture Arts is incredibly proud to be a part of Arts Council England's National Portfolio for the first time, joining the ranks of other great Manchester organisations including HOME Manchester and The Lowry.
The four years of secured funding from 2018 – 2022 has been awarded to recognise Venture Arts' growing reputation as a pioneering visual arts organisation, using innovation, collaboration and exchange to place learning disabled artists at the centre of contemporary arts practice and push the parameters of visual arts practice.
Over the last few years Venture Arts has been building its reputation with pioneering and exciting projects such as the critically acclaimed OutsiderXchanges, which used mutual exchange and dialogue between learning disabled artists and non learning disabled artists in an open studio setting to develop new and collaborative work.
BLOG: Arts Council England's welcome to the National Portfolio