Artists
Jennie Franklin
Jennie Franklin produces detailed drawings in pencil and pen, taking inspiration from found printed material and children's characters.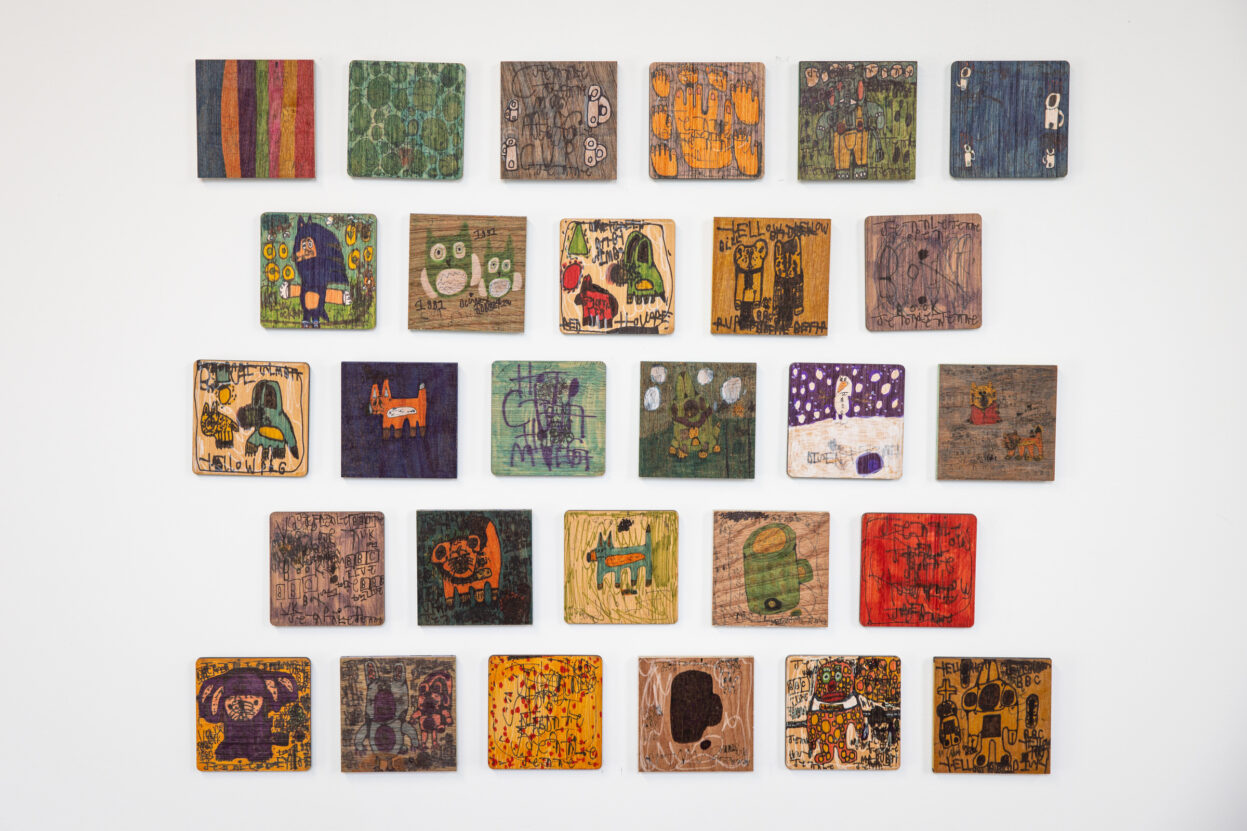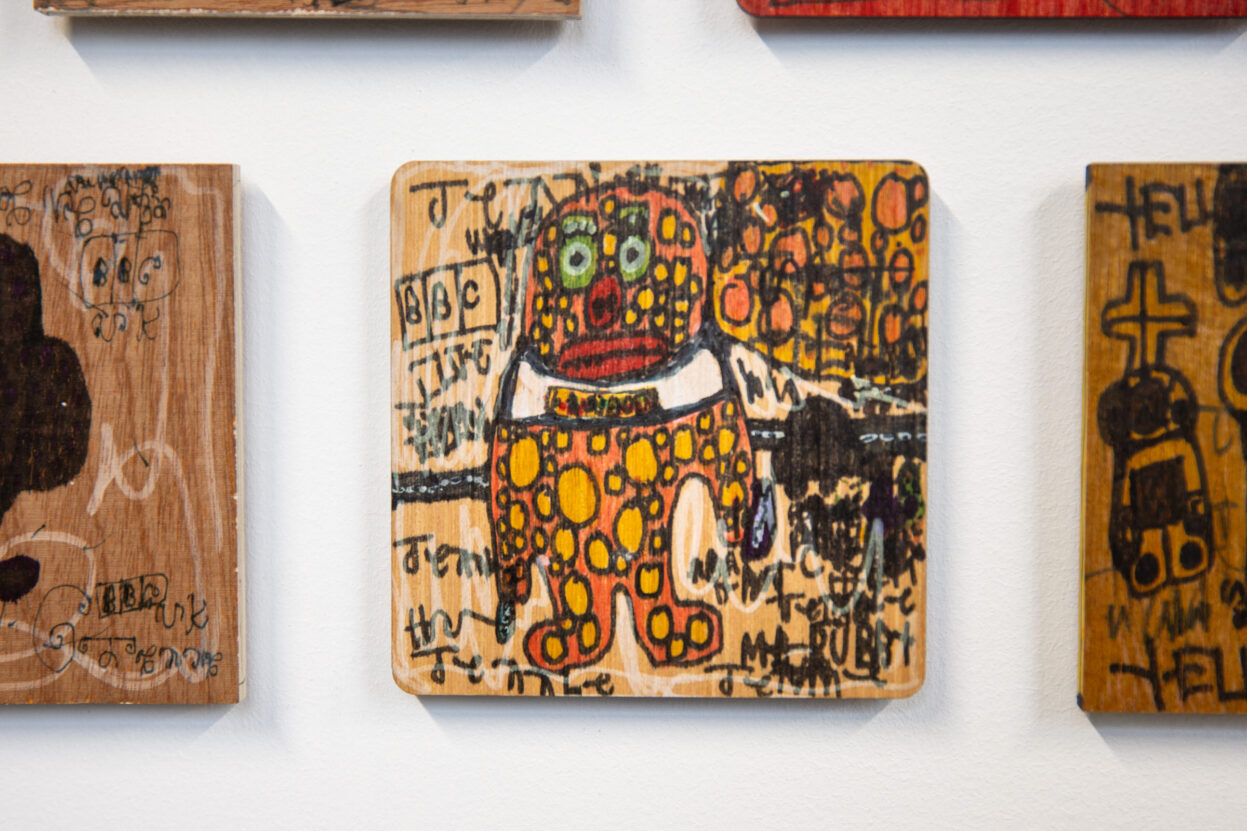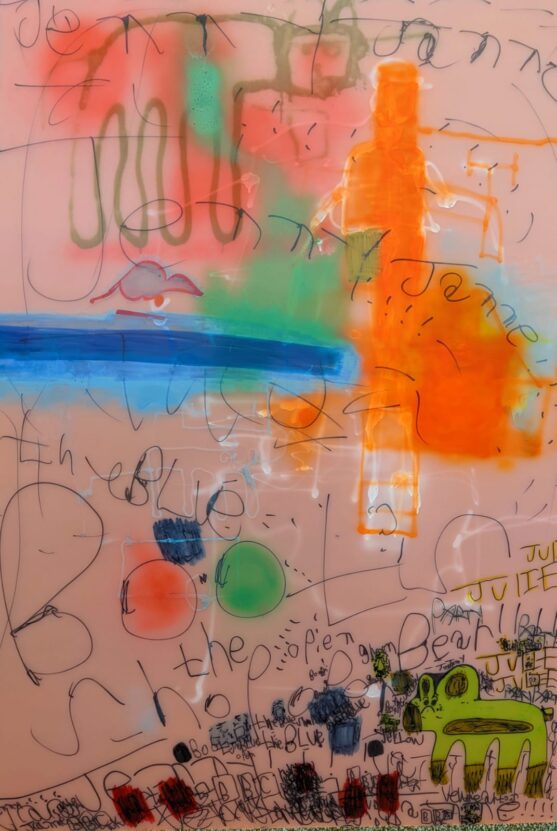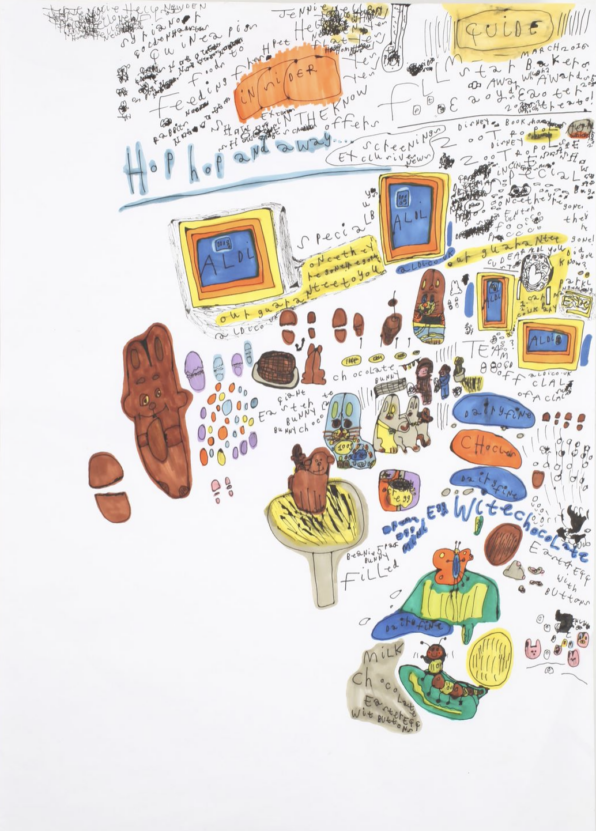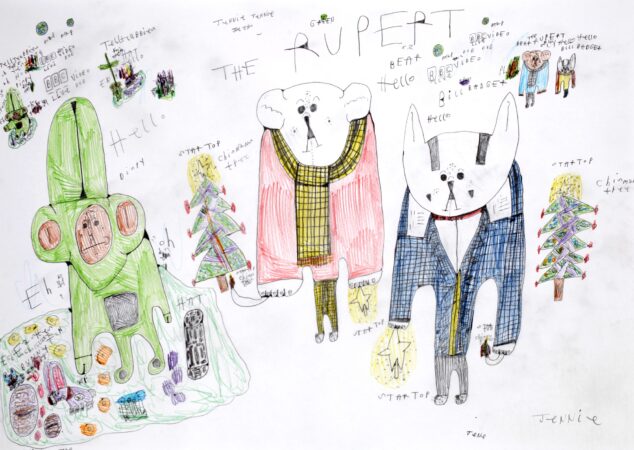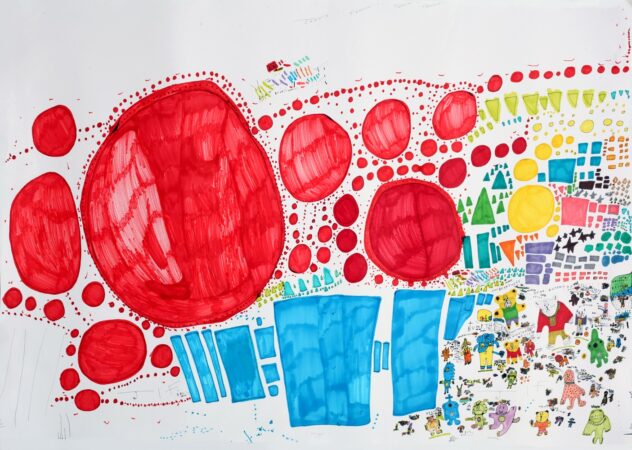 Jennie's drawings appear like an energetic stream of consciousness. She picks and chooses imagery and text from various sources, which she combines to create her own intuitive compositions. Leaflets, flyers, posters and other printed material serve as source material, and familiar children's characters often appear. She sometimes includes self portraits, depicting her own emotions.
Jennie is equally comfortable working large and small-scale, and in recent years has created a series of tiny, intricate drawings on to stickers.
In 2019 Jennie was invited to stage a solo exhibition at Bury Art Museum and Sculpture Centre. Her self-titled show Well Done Good Draw featured large-scale drawings produced over a four year period. Le Fourdrinier's Sara Jaspan praised the show, commenting:
"Each drawing fizzes with a moving flow of images, colours, shapes and words that rise up, sink back, bump into and precipitate one another. Fragments connect through an unwritten logic; crystallising then unravelling across the page, refusing to be too firmly grasped. Clusters of concentrated detail form in places, the minute pencil work often so tight and densely packed that clarity becomes impossible. Then the scale shifts abruptly … and the composition opens out into calmer fields of stark white paper, or large circles and triangles rendered in satisfying blocks of colour."
In 2022 Jennie took part in Narratives, the third in our pioneering Conversations Series, in which artists from Venture Arts work alongside other contemporary artists over several months, producing new work through an equal exchange of art and ideas. This collaboration resulted in an exhibition at The Lowry in January 2023.
Jennie's Art
Jennie's Art' is a community enterprise to enable Jennie Franklin to create unique, personal cards and gifts. Find Jennie's Art on Facebook
Jennie's work also features on the Outside In online gallery
Jennie Franklin's exhibitions and events
Micro, AIR Gallery

Altrincham,

2019.

Jennie Franklin: 'Well Done, Good Draw', solo show

Bury Art Museum and Sculpture Centre,

2019.

Venture Arts Presents, The Manchester Contemporary

Manchester,

2017.

Manifest Arts Festival

Manchester and Salford,

2017.

MADE, Venture Arts full studio show

People's History Museum, Manchester,

2015.
See more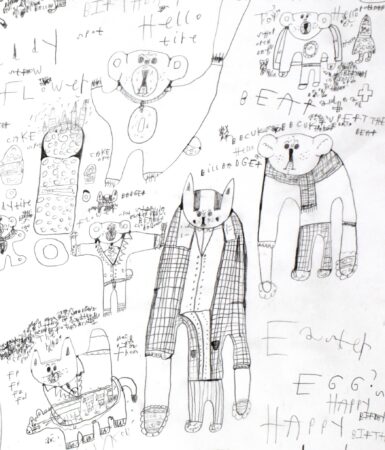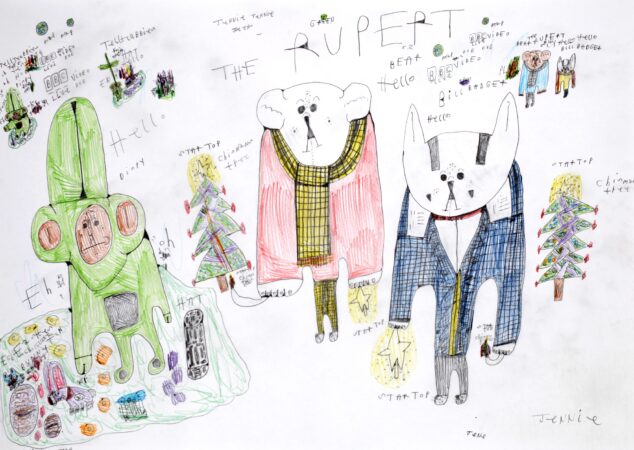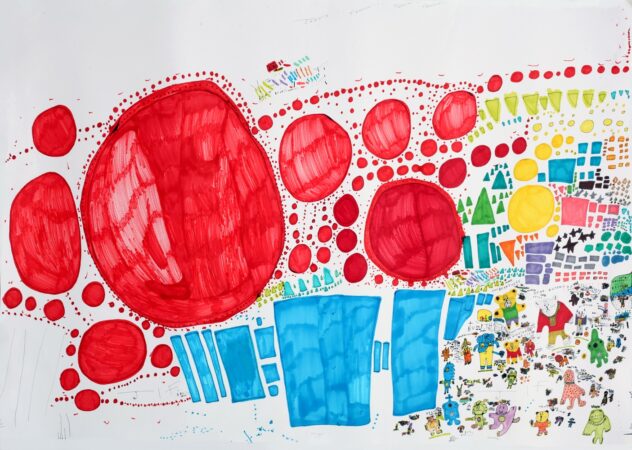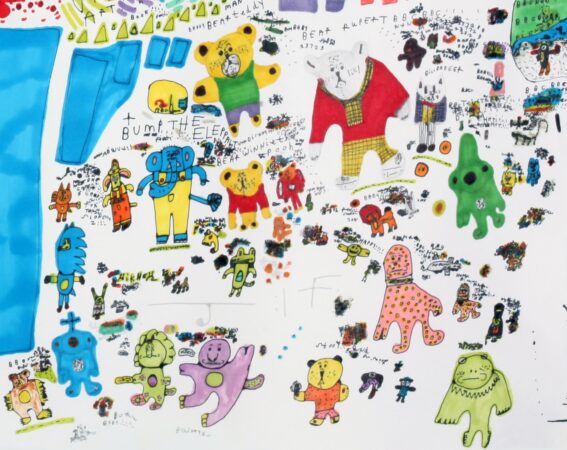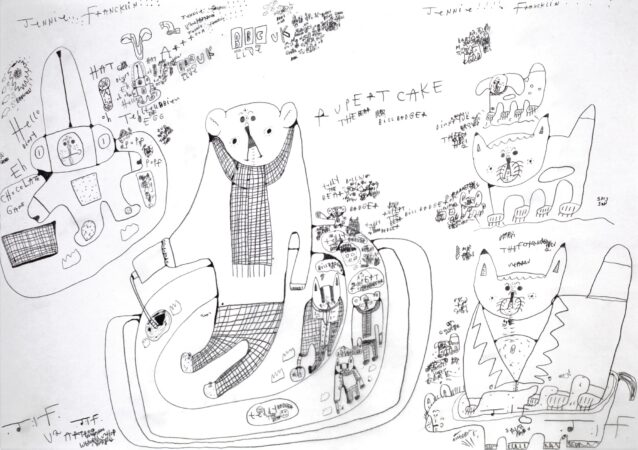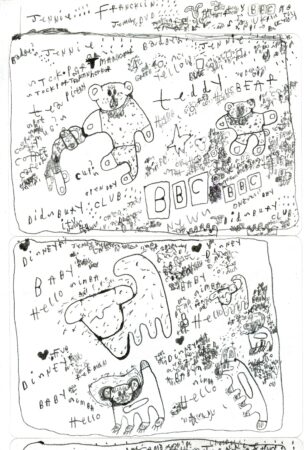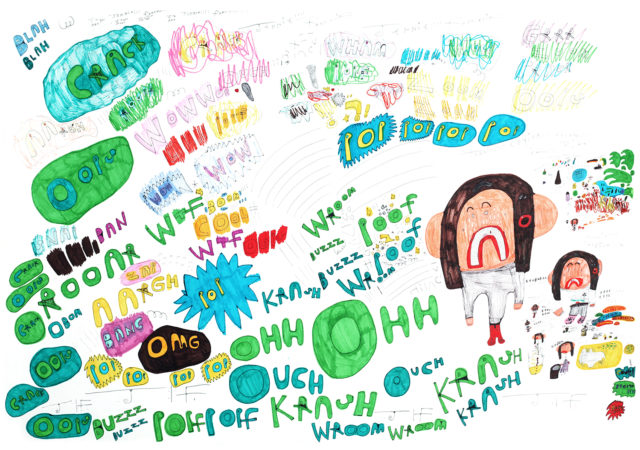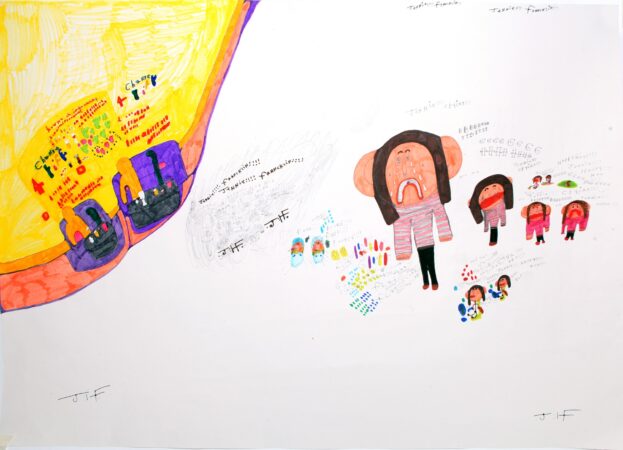 Commissions
We are delighted when people want to commission work from us and our artists. This can either be as a group project or an individual artist creating one of their unique pieces for you.
To find out more and to arrange a studio visit please contact Katherine Long on 0161 232 1223 or email katherine@venturearts.org