Young artist Laura K makes dream dress in lockdown with talented textile artist Eloise Pierce.
Our
Young People's Art Club
, funded by
BBC Children in Need
, has not stopped this year despite our studio being closed. Online projects are designed for each individual artist, tailoring their interests and nurturing their talents. Young artists get the opportunity to experiment and explore a variety of creative skills, such as this exciting project to design and make a dress. https://www.youtube.com/watch?v=x7jvdJPh1P4&feature=youtu.be During the first lockdown one of our youngest artists, 12 year old Laura, worked online with her artist tutor Jacenta, to explore her passion for fashion. She designed her own printed fabric and dress designs, one of which has now been created by Eloise Pierce in to a dress in her size, which we think looks amazing on Laura!
"I loved Jacenta and Eloise helping me with my fashion design and making it in to a beautiful dress. I had great fun. I loved every minute of it!"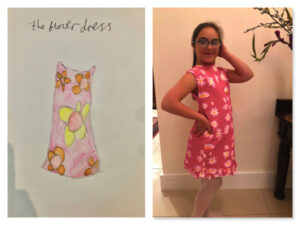 Looking for a textile artist to collaborate with we were recommended artist
Eloise Pierce
. Recently graduated from Manchester Metropolitan University, Eloise had been exploring sensory wear as part of a project with RNIB and went on to create her own sensory sportswear. Volunteering her time to work with Laura, Eloise got to know her in online sessions to find out more about her ideas to create her own dream dress. She used the fabric that Laura had designed, dyed and hand printed herself and made the dress from Laura's designs. Eloise told us:
This project is just one way our BBC Children in Need funding is supporting young people with learning disabilities to grow in confidence and skills. You can find out more about the
programme here
and be sure to tune in to
Children In Need's 2020 Appeal Show
on
Friday 13th November.
Your donations to Children in Need enable projects like ours to continue to remove barriers for disabled young people, supporting them to discover and reach their full potential.
#ChildrenInNeed