Venture Arts artist Louise Hewitt is passionate about visiting Manchester's museums and galleries, gaining inspiration for her own art and poetry. 
This is the first of a new bi-monthly blog from Louise, in which, acting as 'Venture Arts Cultural Correspondent', she'll review an exhibition she has attended, giving an insight in to how it made her think and feel. To find out more about Louise's artistic practise read here. Over to Louise...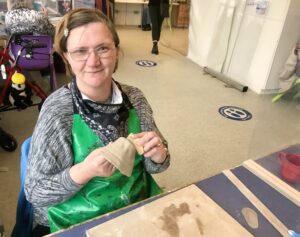 The Portico Library: Fun & Games: Playtime, past & present
"The exhibition I went to see was 'Fun & Games: Playtime, past & present' at The Portico Library. The library first opened in 1806 and remains in its original building in the middle of Manchester, close to Manchester Art Gallery, Chinatown, Central Library and Piccadilly Gardens. The library is open again now, with an exhibition and a small cafe.
The Portico Library has a unique and relaxing atmosphere and the staff are really approachable and friendly. While doing a Venture Arts Cultural Enrichment Programme with them I was inspired by the history and the fact that the building is from the Georgian period and is a Grade 2 listed building. I sometimes find it's hard to believe that the building is two hundred years old - it has such a relaxed and welcoming atmosphere.
The Exhibition
The exhibition is about games and the role they play in childhood and culture. It did rather intrigue me due to reminding me of the games that I liked to play when I was a child, such as snakes and ladders, snap, backgammon and many more. But what inspired me the most was the history and the unique feeling of the place.
It is a rather unique exhibition allowing you to see the games and how they were played in the past. The piece of art that stood out the most for me in this exhibition was Birungi Kawooya's mixed-media collages depicting Kiganda and Hiplet dancers.
The exhibition inspired my artwork as I like to work in 3D and I was looking to find a way to bring this into my work again. The history of the building also inspired me and I decided to bring those ideas to life in the form of a 'Portico Guardian'. The Guardian needs to be related to the history of the building and regal side of the building. So I decided to base my guardian on a lion due to lions being related to royalty and this being a Georgian period building. It inspired me to create this artwork, which I've titled, 'Past Life of the Portico Guardian'.
The exhibition is rather unique and interesting and I thought it was a lot of fun. It was also nice to get away from the hustle and bustle of the city and have a few moments to myself. I find if you have a look at some culture you are learning more about yourself and more about your culture, history and heritage as a person.
Accessibility is pretty good at the library too - you can find out more about that here. It really is an amazing little library and well worth a visit."
Thank you to Louise for her insights in to The Portico Library and their current exhibition. The exhibition is free to visit and runs until 14th June. Louise will return to the blog in July with another cultural review.