Disability History Month 2021 runs from 18th November - 18th December. It's a chance to celebrate the lives of disabled people now and in the past, challenge disabilism and work towards equality.
One of the themes of this year is hidden disabilities and as such Venture Arts Public Engagement Assistant, Amber Okpa-Stother, has written about her experience of living with autism, a disability often invisible to other people. 
"This year for Disability History Month I have written a blog about autism and how it impacts my daily life. I wanted to talk about how I have overcome my autism and manage it on a daily basis. I got diagnosed with autism when I was ten years old. When I got diagnosed with autism it meant that I was able to get the right support in place at school and at college. Despite having autism I have not let it me stop achieving what I want to do, like driving and having a job.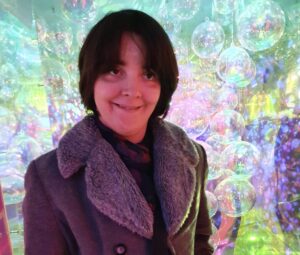 I have my own flat, which is a really big achievement as I pay all my own bills for it. I also do my own cooking in my flat and baking, which I really love to do. Having my own flat makes me feel really independent as I am able to manage really well, and I have my mum nearby, which is really lovely to have, as she is really supportive. Having a job is a big achievement for me as not many people with a disability have a job. What I love about working at Venture Arts is all the people are really lovely and the staff are really helpful and understanding about my autism. I also get lots of opportunities I might not get if I didn't work at Venture Arts. I also volunteer at Manchester Museum every other week, which is really important to me. What I like about volunteering at the museum is I get to meet different people that come to the shop. I also like my friendship that I have with the Shop Manager, Louise, it is really important to me. Volunteering has helped me develop my confidence a lot in talking to people. I am part of
AMP (Accessible Music Productions)
as well, which is at HOME. What I like about being part of it is we get to learn new ways we can create music, which I really enjoy doing. I have also met lots of people being part of AMP and it has enabled me to form new friendships as well, which has been really nice. One of my favourite things about AMP is the House Party events, where you get to perform to everyone and dance - I really enjoy it. So I have achieved a lot despite my autism. Here's my tips to help your autism not stop you:
Amber's top five tips to manage autism
Believe in yourself and you will achieve what you want to.
Don't give up on things.
Even if it might take a long time you will get there in the end.
Always ask for help if you need it.
Take time out of your day to do an activity that relaxes you, for example, jigsaws or colouring books.
I hope these tips will help you achieve things despite having a disability. Remember, even though it might take a while for you to do things you can achieve them in the end and get a great result out of it."
For support with autism head to the National Autistic Society here. 
For more information about Disability History Month head here.
#UKDHM