In her latest blog Venture Arts artist Louise Hewitt visits The Lowry to explore 'Picture This'. 
Louise is passionate about art and culture, visiting Manchester's wealth of museums and galleries to gain inspiration for her own art and to write her bi-monthly Venture Arts blog…
The art exhibition I went to see is called
Picture This
, which is located in
The Lowry
in the grounds of Salford Quays. It was named after the Salford artist, L.S.Lowry. The exhibition is about six children's books that have been brought to life on stage and it tells the origin of the stories. The books on show at the exhibition are 'Room on the Broom', 'Alice's Adventures in Wonderland', 'Wild', 'The Little Prince', 'Coming to England' and 'You Choose'. I chose to visit this exhibition because I am an artist and storyteller and I love to read books. Most of my artwork is inspired by the work of Roald Dahl and Beatrix Potter. I often look through books and illustrations to find inspiration for future projects and as such this exhibition intrigued me to come and find out more.
The artwork that inspired me most as an artist was from a book called 'Wild' (pictured above). This book was written and illustrated by Emily Hughes. The illustrations come to life right before my eyes. The artwork details are truly amazing. My favourite part is the way everything seems to blend in with the feeling of nature. The details in the characters are truly exceptional and I intend to read this book myself. This particular book has inspired me to look at my love for nature more and especially botanical gardens. I think this piece may help me more with my next clay project.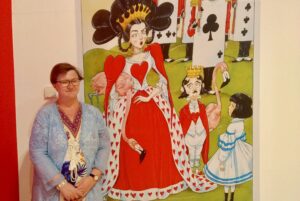 The exhibit I felt most connected to was 'Alice's Adventures in Wonderland'. This was one of my favourite books as a teenager. The book was written by Lewis Carroll and illustrated by Chris Riddell. My favourite characters were the Queen of Hearts and the pink flamingo she uses to play a game called croquet.  I have also enjoyed watching the Alice in Wonderland movie as well and sometimes as a kid I wished I was Alice, just for one magical day. Some parts of this exhibition were copyright protected and you had to be careful on which pieces you could take photographs.
The cafe at The Lowry was very beautiful inside and very calm and relaxing. But they were very expensive on certain items, also they didn't accept cash, which I found rather annoying as there is a cost of living crisis going on. It's not very accessible for people living on a tight budget. You could however bring your own food and drink and eat it outside the building, although not very practical in bad weather. Visiting this exhibition, as an artist and storyteller, I felt like I was in a giant magical library and I was moving from book to book. I would definitely recommend this exhibition to families to come and see. The layout of the exhibition is perfect and plenty of space to move around. The gallery is also very bright and modern. There is so much going on at The Lowry that I think it makes a fantastic day out. I will definitely be coming back here again. 'Picture This' runs until
30th October 2022
. If you are wondering what else is on at The Lowry my advice would be to check out their website which is 
www.lowry.com,
as things are always changing.