In her latest blog Venture Arts artist Louise Hewitt visits Elizabeth Gaskell's House, Manchester's very own Literary house.
Louise is passionate about art and culture, visiting Manchester's wealth of museums and galleries to gain inspiration for her own art and to write her bi-monthly Venture Arts blog.
Welcome to 84 Plymouth Grove, Manchester. For over 150 years the public have known this belonged to a famous novelist called Elizabeth Gaskell, who lived here from 1850 until her untimely death in 1865. She is best known for writing novels such as '
Cranford'
(1851-53), '
Ruth'
(1853), '
North and South'
(1854-55) and '
Wives and Daughters: An Everyday Story'
(1864 -1866). Sadly Elizabeth never finished this book as she had died in 1865. It had to be finished by her publisher.
I chose to visit
Elizabeth Gaskell's House
(pictured here) as I had never been before and I thought it could be very interesting. As it turned out this venue became part of my
Cultural Enrichment Programme
placement on behalf of Venture Arts. I also thought it might inspire me for my artwork and writing. I wondered what new inspirations I might find... Elizabeth Gaskell's House was once student accommodation with a nightclub below. It needed a lot of TLC to be restored back to the Gaskell's home of 1860. Fundraising from the public and money from the Heritage Lottery Fund were used to restore the house and it now relies on volunteers to run it. Elizabeth Gaskell's House tells her life story and introduces you to her family, such as her four daughters, Julia Gaskell, Florence Gaskell, whose nickname was Flossy, Meta Gaskell and Marianne Gaskell. Then there was also her husband, William Gaskell. This place is also about bringing history back to life and for the public to see how things were in the year of 1860. Life back then was so different to the life we have today. In a way it is like stepping back in time and enjoying a piece of Manchester history and heritage. You also meet people who knew the Gaskell family and later became famous in history such as Mr Charles Halle, Mr Charles Dickens, Miss Charlotte Brontë and Miss Florence Nightingale.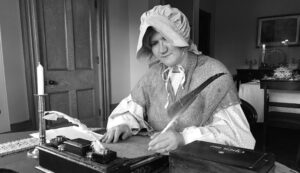 Elizabeth Gaskell's House has inspired me as an artist to create a clay version of a Royal Victoria sponge cake from 1843, as this was rumoured to be Elizabeth's favourite cake to have for afternoon tea. I also did a two dimensional version of the Victoria sponge cake and made a small version of Elizabeth's Garden Bonnet in clay, which are both now on display at Elizabeth Gaskell's House. I also got to dress up as Elizabeth Gaskell and had this photo taken of me! I think people should go and visit this beautiful venue as it has a lovely friendly atmosphere. It is very suitable for families and gives you a chance to see history come back to life. There is also plenty of good disabled access to the building. The Tea Room is in the basement and extends into the former servants hall. You can buy both new and second hand books and also souvenirs. During my tea room experience I tried the soup of the day which was carrot and coriander with a warm bread roll with butter and it was absolutely delicious. Then for dessert I had the raspberry frangipane tart which was also delicious and felt like I was in raspberry heaven. There was also music playing in the background, which was also very soothing and relaxing. The venue is open to the public on Wednesday, Thursday and Sunday from 11am - 4.30pm. The venue does not receive any funding from the Government, they rely on money from the public, so you need to pay an admission fee, you can see
prices here.
As a result of my eight week Cultural Enrichment Placement with Elizabeth Gaskell's House, I am very excited and proud to say that I am now a volunteer there on Sundays, taking visitors on tours. Do come and see me one weekend!