In her latest blog Venture Arts artist Louise Hewitt makes a Christmas visit to Manchester Craft and Design Centre.
Louise is passionate about art and culture, visiting Manchester's wealth of museums and galleries to gain inspiration for her own art and to write her bi-monthly Venture Arts blog…
Manchester Craft and Design Centre
was originally built during the time of Queen Victoria and during this time was a fishmongers and butchers market. The building itself reflects the time and has been beautifully and lovingly restored to its former glory. The building now consists of craft shops selling artists' work and jewellery. I was invited to visit this venue as part of a field trip with Venture Arts. I thought this could be very interesting as I had never heard, or seen, this place before. All these years I have walked through the Northern Quarter of Manchester and never come across it before. I thought it might give me some ideas for my creative writing or artwork or connect me to a technique that I am waiting to learn, who knows.
During my visit we took part in a Christmas craft making workshop, which I thought was really good fun and I made a Christmas spice scented candle holder. I am really pleased with it because I have never made one before. It is definitely an activity I would invite the public to do, especially during the Christmas season. Unfortunately the cafe at the Centre was currently closed due to refurbishment, however, there were picnic tables available. After the workshop I got to look around the artisan and jewellery shops in the Centre and two shops stood out to me, they were
Ella Macintosh
and
Linzi Ramsden
. Ella Macintosh is a jeweller and I loved the unique windows and the way everything was laid out. Some of the jewellery is made from glass, a technique that I hope to be learning soon.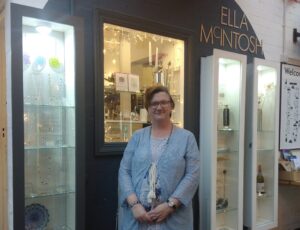 Linzi Ramsden is a ceramicist and her shop sells lovely ceramic pieces, from pots to mats and everything was so beautifully laid out. I hope sometime in the future that one day that might be me running my own shop. The accessibility inside the building is ok, but not great for wheelchair users and I couldn't see any lifts, however they are trying to raise funds in order to build better access to this Victorian building in the future. Public transport to the venue is very reliable and you can get there by bus or tram. You have about a four minute walk from the tram or eight minute walk from Piccadilly bus station and the walk is mostly flat. My overall thoughts of the visit are that this is a unique, quirky and laid back place, with lovely, light open spaces. There are a large number of unique and quirky shops with some Victorian history to the building. I think people should visit, especially those who love art, fashion and beautiful, quiet places. It is rather a special little indoor market. I really enjoyed my time visiting. I wish more people knew about it - how could a special gem like this place be kept hidden and not known about? People really should know about this place and hopefully more now will.
Find out more at craftandesign.com