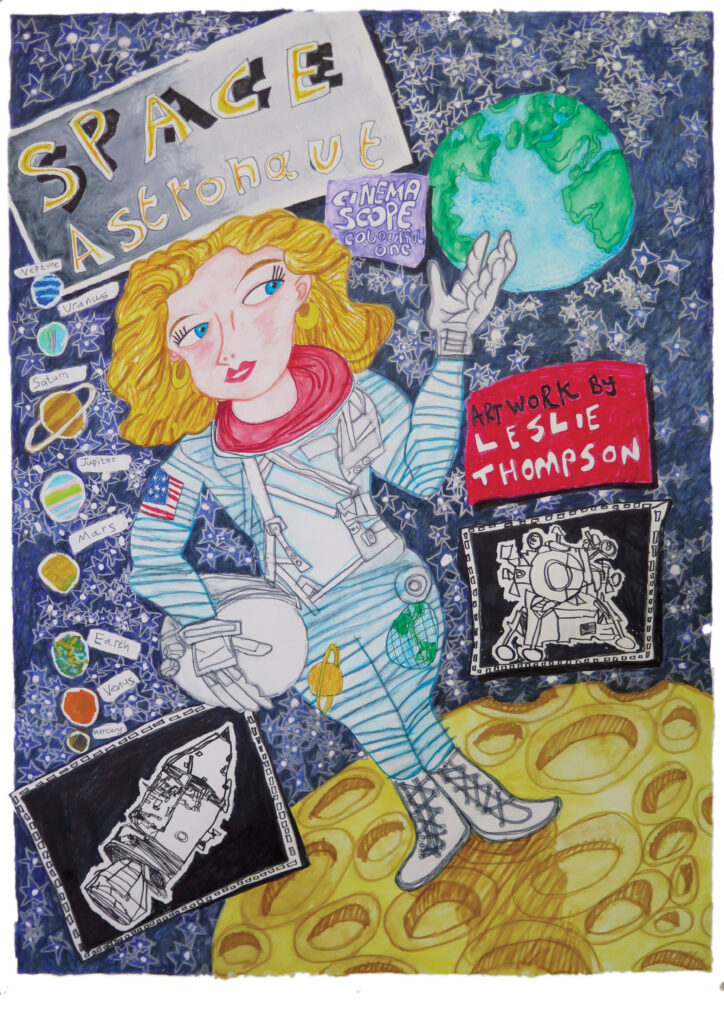 'Space Astronaut' 
Limited Edition Print Release
by Leslie Thompson
for International Women' Day
Leslie Thompson has been working on a new 'retro movie poster' style illustration about a beautiful and adventurous woman space astronaut. We love it and to celebrate
International Women's Day
we are releasing 25 limited edition of prints of 'Space Astronaut' signed by Leslie himself. PRINTS AVAILABLE | 25/25, signed, 
'Space Astronaut' by Leslie Thompson
MEDIUM | Digital print on fine art paper COST | £45 Each including postage DIMENSIONS | 
16.5 x 11.7 in (A3 paper size)
Watch the making of 'Space Astronaut'
For 'Space Astronaut' Leslie worked closely with me to research, develop and learn to turn a simple sketch book idea for a 'colourful female space astronaut' into a large-scale painting. This inspiration took Leslie to draw his interpretations of classic retro feel movie posters including; King Kong, Valley of Gwangi and Tarzan and creating prints in the process. Leslie developed his research skills, looking into images of early space suits, boots gloves, helmets and images of the planets. - James Pollitt
Leslie has been a regular practising artist at Venture Arts studios for over twenty years. Leslie Thompson has a highly developed drawing style, drawing both from memory and through live observational drawings. He depicts scenes from television and film from 1970 -1990. His drawings are punctuated with fascinating anecdotes from film, music and TV and he also has a vast collection of superheroes which he binds and protects. He has exhibited nationally, taken part in site-specific art commissions and sold artwork to private collectors.
PLEASE NOTE: Prints will be posted from the end of March
To get your hands on a Leslie Thompson original print please email
info@venturearts.org
Or call us on 0161 232 1223 Read more about Leslie's artwork and exhibition experience 
here
.