INTRODUCING our new Creative Producer | Jennifer Gilbert
Jennifer has been with us for 6 weeks now and she has been settling in to her new life in Manchester after moving up from Brighton. She has hit the ground running planning our forthcoming events and exhibitions....More about there very soon! Here she shares some words about her background and what she hopes to bring to her role as Venture Arts Creative Producer.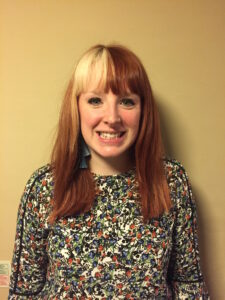 ''I am excited to be starting my new role at Venture Arts as Creative Producer. My background is in the arts and health, and Outsider Art fields. For nearly six years I was the Manager of Outside In – a national project supporting artists with a range of disabilities, where I organised many exhibitions, events and partnership projects. Since then I have been working with artists with disabilities in Brighton, I am a trustee for Barrington Farm – a centre supporting artists with learning disabilities in Norfolk – and I set up the Jennifer Lauren Gallery – an online platform championing and exhibiting self-taught and overlooked artists who create works outside the mainstream art world and art history.
Recently I travelled to Japan to meet some of the artists that I already work with through my gallery, as well as visiting other art studios supporting artists with disabilities. I am also carrying out a research project with disabled artist Tanya Raabe-Webber where we are looking at other learning disabled art studios in the UK, and one in Europe, to learn about best practice and this information will be fed back into a sharing day and exhibition in 2019.
I hope to be able to bring all this experience into this role at Venture Arts. I look forward to getting to know the artists here better, having met some through my work at Outside In, as well as looking at opportunities to get their work, and the artists themselves, more widely seen and accepted.''