In a normal year we'd work with young students from a range of schools across Manchester, providing them with an important opportunity to gain valuable skills and experience in the work place. We work in partnership with Our Futures, who support young people with careers advice and work experience.
Of course last year and indeed this year are not 'normal years', and like so much of what we deliver our work experience programme has had to adapt...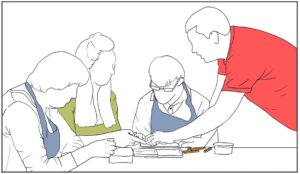 Rather than abandon the programme because students can't currently join us in the studio we recruited Venture Arts volunteer and Leeds University Art and Design student, Victoria Le Fèvre Taylor. She has worked closely with our Volunteer Coordinator to produce an in-depth digital resource pack for High School aged students, from years 7 to 11,  to learn from. Usually our work experience students would assist in visual arts sessions in our studio, gaining hands on experience and an understanding of how a supported studio like Venture Arts works. With that not possible currently we believe this new programme is the best way to offer students a remote work experience.
By working their way through the resource pack, completing tasks along the way, students will learn about:
What we deliver at Venture Arts
Different artistic practises
What learning disability is
The Venture Arts studio programme
Accessible art
How to support someone with a learning disability
Health and safety
As well as this students will also have the opportunity to create their own visual art response to our artists' work. We're thrilled that this new resource pack will be used by the first school in the last week of May and then rolled out to more schools across the summer term. Students will gain a certificate on completion of the programme. Huge thanks to Victoria for volunteering her time and skills to create such an important and valuable resource. We're confident it will make a big difference to a lot of young people. Here's Victoria working on the resource pack in Zoom with one of our artists and our Volunteer Coordinator. See more of Victoria's work and commission her for your own projects at the social links below.
If you think you or your High School could benefit from our remote work experience programme please email laura@venturearts.org or call 0161 232 1223. 
Follow Victoria Le Fevre Taylor Art and Design online:
Facebook
,
Instagram
,
Etsy
.