EXPLORERS is a dynamic collaborative programme of art and action that opens up routes into artistic practice for neurominorities, dismantling attitudinal and systemic barriers to representation and rights in art and society.
Venture Arts is thrilled to be part of the national creative programme of events that makes up
Explorers
, aiming to increase the visibility and representation of neurodivergent artists in contemporary visual art.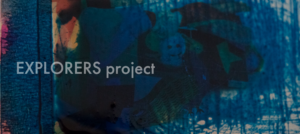 The Explorers Project:
Creates platforms for neurodivergent artists.
Creates pathways for cultural organisations to deepen their understanding and commit to inviting neurodivergent people and carers into their spaces.
Works towards changing the discourse of how neurodivergent artists are positioned and described in culture.
Conversations Series III: Narratives
Our upcoming
Conversation Series III, 'Narratives',
will form part of the
Explorers Project.
Narratives is a new collaborative residency, working with eight artists for whom personal narratives around heritage are central to their work. We aim to work with four Venture Arts artists from diverse cultures and backgrounds. Collaborating with
Castlefield Gallery
, 
The Lowry
 and 
Explorers,
we will commission four local artists for whom cultural identity is also important in their work, or who would like to create new work about their personal stories and narratives. Find out more about
Narratives here. 
Explorers Project Partners:
www.explorersproject.org
@Explorers__Project
#ExplorersProject
The Explorers Project is supported by
Arts Council England
and the
Paul Hamlyn Foundation.