Be a Warm-hearts Champion
and raise funds for Venture Arts!
It's getting chilly as winter approaches. At Venture Arts we count ourselves very lucky to have the support of so many
warm-hearted
people and organisations, to sustain us through these tough times. This support helped us to develop online artistic and social programmes for our learning disabled artists. Funds raised through our new campaign will go towards the additional costs we'll face when we return to the studio. Not everyone will be able to return to Venture Arts at once - so we'll need more staff hours to deliver a dual in-house/online service. We'll also need to pay for a full time cleaner and additional equipment to ensure our studio is safe.
To help us fund all this, we're launching our
Warm-hearts Winter Challenge.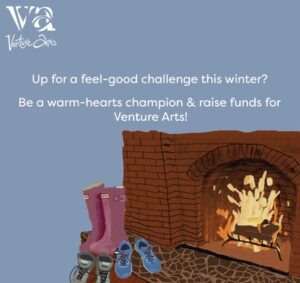 We hope you'll join us by taking part in fun

'wrap-up' outdoor challenges

or

'stay-cosy' indoor challenges
-
to help raise much-needed funds to take us through the whole of winter and beyond.
If you don't want to take part in a challenge but wish to donate to the appeal you can
do so here. Thank you!
If you do fancy a challenge we've got ideas to get you started and spur you on. Or, you might like to come up with your own challenge to yourself or your household. If you're feeling fired up and super-competitive, you could even pit yourself against your mates with an online group challenge! The winner can bask in the glow of bragging rights, and you can all feel warm and fuzzy knowing you've given much-needed support to Venture Arts and our artists! From £20 to £200 - whatever you raise will be greatly appreciated.
Challenge Ideas...
Do you love to push your body to its limits? Or are you more at home in the kitchen cooking up a storm with some creative muffin recipes? Whoever you are, there's a warm-heart challenge for you.
Outdoor 'Wrap-up challenges'
Run one mile a day for 26 days - or run 26 miles in one day!
Cycle Manchester's traffic-free cycle-paths
Walk 10k in one day or one mile every day for 26 days
Mini 'try!-athlon' with a twist: walk two miles/ run two miles/ cycle two miles in a day. Circuit train your way around your garden!
Indoor 'Stay-cosy challenges'
Organise a Zoom quiz night with your friends – ask them to donate to take part
Disco-dare – set yourself a time challenge for non-stop dancing - 2 hours, 6 hours or even a 10 hour zoom relay with your mates!
Baking challenge - your most ambitious showstopper to date! Or deliver baked goods to friends and family's doorsteps
Art-athon – create a masterpiece in 24 hours
Knitting, crafting or sewing 'bees' with your friends, online
Stay silent for 6 hours (harder than you think!)
Dry January.
We'll support you all the way
By offering advice on setting up an online fundraising page
By providing warm-hearts campaign branding to help make your fundraising efforts come to life
By promoting the campaign and individual challenges on our social platforms
And celebrating your achievements - keep the content coming and tag us so we can share!
Register your challenge
Register your challenge by dropping us an email at
events@venturearts.org
Then we'll send you a digital '
Challenge-Champion'
pack with helpful fundraising hints & tips to set up your own online fundraising page and get promoting your individual challenge. Remember to tag Venture Arts so we can celebrate your success! Instagram:
@Venturearts_
Twitter:
@VentureArts
Facebook:
VentureArtsManchester
People achieve magnificent things at Venture Arts.
The fundraising you can offer means that we can keep supporting learning disabled people of all ages to reach their life potential through the visual arts.
Warm-hearts Winter Challenge runs until 14th February 2021. 
Artwork for the Warm-hearts campaign from original digital paintings by Venture Arts artist
Michael Nash
. Design by
Anne Hermon.
Please do take care and train/prepare appropriately for physical challenges, and check weather conditions are suitable. All challenges undertaken at participants' own risk. We want you to stay safe, socially distanced and have fun!