Venture Arts artist Louise Hewitt is passionate about visiting Manchester's museums and galleries, gaining inspiration for her own art and poetry. 
This is the third of her bi-monthly blogs, in which, acting as Venture Arts Cultural Correspondent, she reviews an exhibition she has attended, giving an insight in to how it made her think and feel. You can read her last blog here. To find out more about Louise's artistic practise read here. Over to Louise…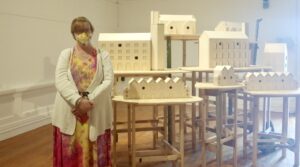 Towards the end of August I went to see an exhibition called
You Belong Here - Artists Rediscovering Salford's Green Spaces
and it is being shown at
Salford Museum and Art Gallery.
The exhibition is about rediscovering all the green spaces in Salford, past, present and future. The exhibition is on until 28th November 2021 and you will need to book your ticket online. I chose this exhibition due to being interested in nature as a child growing up. I would go and visit stately homes and gardens with my family. The nature side of the exhibition intrigued me to come and see it. I'm so glad I did because this exhibition has inspired me as an artist. It relates to a current art making project that I am doing in clay at Venture Arts, which is a tea set. It was first inspired by the last art exhibition I went to see, which was called
 'Trading Station: How hot drinks shape our lives',
at Manchester Art Gallery. Within the exhibition some of the work I found most inspiring was that of an artist called
Hilary Jack
. Some of her work in this exhibition is absolutely amazing and there is such incredible detail in her work. This detail inspired my current clay project and made me rethink my pattern detail for my tea set. The piece of artwork that inspired me the most was called 'Unsettled Ground' by Hilary Jack (pictured above). I loved the way the models were created out of wood and the details within the building, such as the roof and windows, really brought it to life. This helped me realise that if I could add more detail to my work I could bring it up to a whole new level. I particularly loved 'Unsettled Ground' as it is 3D and I love working in 3D. The other part of this work that led me to rethink the colour and design of the pattern on my tea set was the fact you could feel the edges in wood. It made me think about carving into the clay rather than painting or drawing it on. I could use one continuous colour rather than using three colours. This idea came to me because the 3D model was all in one colour. So the next step for me when I return to the Venture Arts studio is to try out some new pattern designs and look at different colours. I am going to carve some pattern designs into clay and see if that makes my designs any better. I think people should visit Salford Museum and Art Gallery because it has an amazing look and feel about the place and this exhibition has inspired me to come here again. The cafe is really nice to go and visit and have a cup of coffee and look over the view of Peel Park. It's a nice place to relax after visiting the exhibitions and break up your day.