Last month we shared our first blog from artist Anne-Marie Atkinson, who is currently conducting her PhD research with us, through a partnership with Manchester Metropolitan University.
For her thesis entitled, 'Challenging Outsider Art: How are learning disabled artists informing contemporary art', Anne-Marie immersed herself in the daily life of the Venture Arts studio.
In this blog series she tells us more about her research and how it has had to adapt over the past year.
You can read part one of her blog here.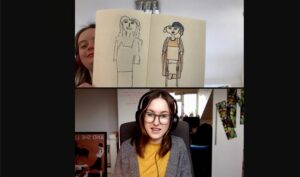 "2019 ended really well for my research project. I had used my time in the Venture Arts studio to develop a set of new artworks exploring writing and layering, and had exhibited these at Paradise Works with Proximity, the collective of artists undertaking practice-led PhD research that I am part of. I had also been invited to work with the Portland Arts and Learning Studio, an organisation similar to Venture Arts based in Oregon, USA. The invite had promoted me to plan a two week research trip where I would visit six art studios that work with learning disabled artists on the west coast of the USA, including Creativity Explored and Creative Growth in San Francisco. As we moved into 2020, I was excited to take that trip and use the data generated to produce a USA-UK comparison on my area of research. I was also moving from my initial fieldwork experiment to a phase of collaborative research, which meant recruiting a group of artists from Venture Arts to work with. I had met some wonderful artists in the initial fieldwork who had expressed interest in continuing to work with me, and was eager to see where they would take me next. What happened next could never have been anticipated at the start of the project: Covid-19 spread cross the world. The successive lockdowns and uncertainty were now defining factors in my project, as well as in all of our lives. The plans I had made for the next phase of my data collection – plans supported by my literature review, methodology, ethics application, and time spent in the Venture Arts studio - were all thrown into disarray. For a while, I held on to the hope that the lockdowns, tiers and danger they implied were only short-term, and that I would get to work with the participating artist in person as intended. When I adjusted to online methods, I had to simultaneously make this change and understand its significance for the research. The haptic and material aspects I had intended were lost working through a digital interface, and of course my research trip to the USA was cancelled. I experienced a moment of grief over these changes, and like many PhD students, I experienced a dip in mental health. This was particularly exacerbated when Manchester Met announced it does not intend to extend scholarship funding, which means I am still expected to be able to complete my PhD project to the original deadline. But, with the support of my supervisor, Professor Amanda Ravetz, I began to understand that my research was as pertinent as ever. The whole cultural landscape has moved beneath our feet as a result of the pandemic. My research is to understand how learning disabled artists operate within the cultural landscape, so even if the context changes, the questions remain the same. This helped me refocus on what really matters in the project. Over 2020 I worked with seven participating artists individually in online sessions for between 6-8 months, six from Venture Arts and one from Creativity Explored in San Francisco. Only two of the participating artists I had met in the initial fieldwork phase; the pandemic affected people's availability and priorities, so I had to open my recruitment up to more people. Four of my research participants I have never met in person. We've faced different challenges but also experienced surprises. As we 'meet' each other from our personal spaces, the digital opens up a different kind of intimacy to the studio. We've been more resourceful with materials, and have utilised the postal system to exchange artworks. I've thought about the different layers of practice, connection and collaboration in the research, and have invited cross-pollination of ideas between different participants. A couple of them attended a degree level online talk about curation with me, something that may have been more difficult to organise in person. I have been continuously impressed with the initiative and determination of my participants, and am so grateful for all they have generously offered. They have been a huge source of inspiration and motivation, reminding me why I came to this project in the first place, and of the potential still contained within it. Now, before I attempt to make sense of my PhD journey and provide some answers to my questions through writing my thesis, I want to spotlight my research participants. They are each going to share some of the artworks they produced during the fieldwork in a series of events and exhibitions. These will be discussed further in a blog dedicated to each one. In my next post I'll be sharing news about Poppy Maquire, Josh Brown and Rory White presenting a digital '
Artist Open Studio'
event on
25th March." 
You can read about the
'Artist Open Studio' event here.