On 25th March 2021, Venture Arts is delighted to present a digital 'Artist Open Studio' - sharing the work of Poppy Maguire and Josh Brown, alongside Rory White from Creativity Explored in San Francisco, USA.
As part of her PhD research, Anne-Marie Atkinson has spent time with these three artists over the last several months, interested to find out about their approach to making art and their future ambitions. She has written two blogs for us, sharing the ideas and motivation behind her research, and also how it's been impacted by the pandemic. You can read the first blog here and the second here.
As part of the project Anne-Marie will be hosting an 'Artist Open Studio' event, in which three of the artists she's working with will share their artwork and discuss their process and ideas behind it. In this post, Anne-Marie tells us more about her fieldwork and the upcoming event.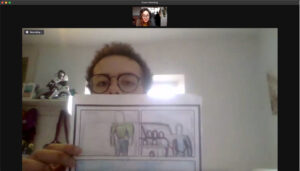 "My PhD fieldwork has been affected by the pandemic in a number of ways, most noticeably the required move to online, rather than in-person, methods. A consequence of this was that I worked with each participating artist one-to-one, rather than as part of a small group. The time I spent on fieldwork each week increased more than three-fold compared to what I had anticipated pre-pandemic. It became more immersive, as the life-worlds of the participating artists were woven through my own. This was intensified further by the changed locations of our work together. Outside of the formal Venture Arts studio, we turned our bedrooms and dining rooms into offices and studios, bringing the work and play of art into the places where we eat, sleep, and spend time with family. Working with participants individually also changed the nature of our interaction. We lost the convivial and collaborative aspects of being part of a group, but our focus on each other became concentrated, opening up different paths of possibilities. I tried not to predict in advance what would happen with each participant or in each session, and instead was open to being led by the participants themselves. With Poppy, Josh and Rory, we did not work towards a clearly defined project outcome, but instead I was invited to spend time alongside them, observe, ask questions, and participate in their practice more broadly. They would tell me what they had been working on since our last meeting, and also used our session time to create new works, showing me their process and methods. This digital 'open studio' offers audiences a glimpse into the evolving preoccupations of these three artists, sharing works-in-process and excerpts of their larger practice at this moment in time.
Poppy
has created a collection of fashion designs inspired by her interests in alternative styles, including rock, goth, and geek chic, as well as designs inspired by foods, seasons and animals. These illustrations will be presented in the digital open studio. Poppy also explores her interest in fashion through photography, sometimes sharing her outfit combinations on Instagram, and she aspires to be a model. Recently she has been writing down her life story so far, in preparation for a big life shift after her upcoming 25
th
birthday.
Josh
has written comics, short stories and screenplays and is currently researching competitions and other avenues to share his work. He is developing works in the genres of horror, sci-fi, and ancient mythology, and his process includes taking writing prompts as starting points and then filling in details. Josh often works on several projects at once, and his ideas shift and evolve across mediums. The open studio will share a selection of works-in-progress and excerpts from texts, to demonstrate his varied and ideas-led practice.
Rory
is a highly motivated artist who spends dedicated time every day on his practice. Over lockdown, he has been focused on drawing and photography, but he has also been involved in a collaborative animation project through Creativity Explored. He is inspired by pop culture, architecture, the occult and fantasy, and his works construct a world through a unique aesthetic that he describes as having surrealist elements. The open studio will share drawings of castles and building interiors, swords, armour, and symbols.
Please join us for the 'Artist Open Studio' event on 25th March 2021, 5 - 6pm via Zoom.
To book your free ticket please email lydia@venturearts.org and you will be sent a zoom link on the day of the event.