We're thrilled to announce that Venture Arts artist Horace Lindezey's work is to be presented at this year's
London Art Fair

: 20th - 31st January.

This year marks the 33rd

London Art Fair

and due to the current national lockdown they are offering a digital Fair for 2021. Despite this, the fair continues to provide an exciting opportunity to discover and champion the most outstanding contemporary art being produced today, both nationally and internationally. Horace is one of three

Outside In

artists, presenting work together under a 'Folk' theme.

Horace Lindezey

has been a practising artist for over 30 years. He is a skilled ceramicist and textile artist, whose work depicts the world around him, his family and memories of his childhood growing up in Hulme and Moss Side, Manchester.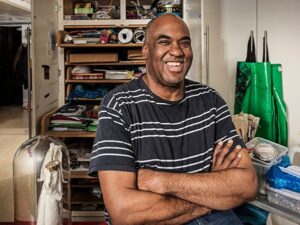 One of six children, his father was a carpenter and his mother a seamstress, she especially had a huge influence on his life. He recalls sitting as a child and watching her create bridesmaids dresses in the living room, watching her sew on the beads one by one. Years later when creating textile work those memories stayed with him and this intricacy is evident in his work too.
Lindezey has always had a fascination with weddings, christenings and funerals, he refers to them as, 'special occasional days'. He enjoys getting dressed up in a suit and tie and is the proud owner of eight suits, all of which have a story about where they were bought, by whom and for what occasion. Much of his work in recent years has explored these themes with the main focus being on weddings and in particular wedding dresses, which he has made in fabric and then dipped in porcelain.  The process of producing these pieces has itself become a ceremony, with Lindezey reciting the words of wedding ceremonies he has attended during production. He also loves to embroider scenes from some of his favourite TV characters' wedding days, such as Kylie and Jason, and Roy and Hayley Cropper from Coronation Street (pictured below). These pieces and much more of Lindezey's work will be available to explore and purchase at the London Art Fair.
All the pieces presented at the
London Art Fair
are available to purchase. The online fair offer visitors the opportunity to discover and browse the works on display in viewing rooms where you can enquire about pieces and discuss purchases. So if you're in the market for some original and unique artwork
head to their website here for more information.