This year artist Anne-Marie Atkinson has been contributing to the Venture Arts blog, sharing with us insights from her research for her PhD thesis, 'Challenging Outsider Art: How are learning disabled artists informing contemporary art'.
She has written three blogs for us, sharing the ideas and motivation behind her research, how it's been impacted by the pandemic and details of an Artist Open Studio event she led.
In this latest blog she is spotlighting one of the artists she's been working closely with, Louise Hewitt, and her interdisciplinary, world-building practice.
"When I first met Louise (via Zoom; we are yet to meet in person), she was working on a collection of ceramic and fabric creatures from an existing series called 'The Garden Centre Monsters'. These creatures – as well as their cousins, 'The Wild Bunch' – have been with Louise for a long time and she has produced multiple diverse and discrete rendering of each creature, including painted portraits, detailed written character profiles, several short stories, and 3D models. With a granular approach, Louise has developed a world where the creatures can exist happily and safely, with clear rules for communication and problem solving shared by the members of the creature community.
Louise also has a long-standing practice in poetry and creative writing, for which she has won awards. She shared with me that she uses her creative practice as a space to freely capture and process her emotions and observations, so she doesn't feel the need to use rhyming schemes. Many of her works have an autobiographical element, combined with her interest in mythology. I was particularly moved when Louise shared with me 'The Demon Chronicles', a collection of her poems produced several years ago. It contained poems with titles like "Two-Faced Boss Demon", "Lost My Job Again Demon", and "The Job Centre Demon". The collection powerfully communicates – through the incarnation of her 'demons' – a sense of the frustration and anger Louise was experiencing at that time in her life, as well as her ultimate defiance and self-possession. Refusing to acquiesce, in writing those poems Louise spoke truth to power and claimed her right to rage at the unjust and inaccessible world that provided the backdrop to her experience. Louise shared her approach to writing the demon poetry with members of Proximity, a collective of six artists undertaking research in the North of England of which I am part. This was a new challenge for her, but she sensitively held a space for us to explore our own personal demons, such as the Slow-Reading Demon, the Putting-Things-Off Demon, and the Too-Many-Ideas Demon. What I found remarkable about how Louise boldly shares her personal introspections and encourages others to do the same, is the way that she ultimately uses the creative format to befriend her demons, showing that they can be protective, an asset, or our biggest supporters, even the ones we think are the most scary.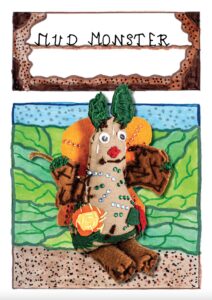 Over our time together, I worked with Louise to pull a lot of the strands of her existing work into a children's book called, 'The Garden Monsters Diary'. Re-writing some introductory sections, Louise resolved the plot as well as her own place within the creatures' world. She has become their storykeeper, "entrusted with secrets not normally shared with humans". At one point in the story, a monster tells Louise, "
I don't think the other humans would believe you anyway. They would say you have a creative imagination. This could be used to your advantage though
". I feel a tinge of sadness at this line, thinking of the ways learning disabled and autistic people are routinely dismissed. But there is empowerment there also, and these gift-bearing demons are an adept metaphor for the themes in my research more broadly: the Categories-and-Labels Demon, the Theory-vs-Practice demon, the Non-disabled-Disability-Researcher Demon… 'The Garden Monster Diary' is illustrated by watercolour paintings and fabric creatures, and Louise is delivering two readings from the book in collaboration with
The Portico
. The first event received warm praise from the audience, which included babies, young children and families." The second event is
Saturday 24th April
,  10-11am on Zoom, and you are invited to attend by registering with the Portico Eventbrite -
BOOK HERE. 
Thank you to Anne-Marie for sharing her PhD research with us, we look forward to seeing how it evolves.