In her latest blog Venture Arts artist Louise Hewitt visits The Whitworth to explore 'Fayre Share Fayre', part of A Modest Show, the collateral programme to British Art Show 9.
Louise is passionate about art and culture, visiting Manchester's wealth of museums and galleries to gain inspiration for her own art and to write her bi-monthly Venture Arts blog…
Why did you choose to visit this exhibition?
The last time I came to visit The Whitworth was to write an
article on the Open House art exhibition
. I previously visited that exhibition back in May 2022. This time I was there to look at an exhibition called '
Fayre Share Fayre
', located in Gallery 3. Being located right on Oxford Road the public transport to the venue is very good, there are many bus routes that stop right by the gallery. I wanted to visit this art show as it is part of
A Modest Show
, the collateral programme to
British Art Show 9
.  I was also excited to find out that some of my fellow artists at Venture Arts were part of the exhibition and that's what intrigued me to go and check it out. Artists
Horace Lindezey
,
Ahmed Mohammed
, Violet Emsley and
Liam Ashworth
were all selected to exhibit their work, which has a collective theme of food and drink.
What did you enjoy within the exhibition? 
One of the art pieces that really inspired me was by Liam Ashworth, called 'Stir Fry' (pictured below). I love the way he's written the word in the photograph and how it appears with the illusion of 3D. I thought that it had a magical and mystical feel. The word stir fry also reminded me of my favourite Chinese food.
The first art piece I really felt connected to was 'Fish and Chips' by Violet Emsley (pictured below). It made me feel very hungry and think of a Friday tea! The art work is very well done and from a certain distance it looks very real, as if you could eat it. I thought this artwork knows how to get my tummy rumbling for food.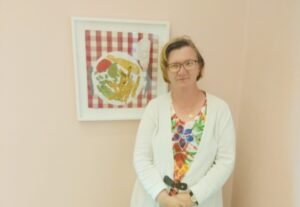 Another piece I felt very connected to was 'Eat the Frog'. This was designed by an artist called Alena Ruth Donely. It reminded me of doing textile work at Venture Arts with artist fascinator, Louisa Hammond. It also reminded me of comic books from the 60's.  What tantalised me most about this artwork was that I couldn't work out whether or not this was made using wool or paint, it was very impressive. The exhibition brings together over 40 artists with a connection to Greater Manchester. I think people should visit this exhibition to see what talent Manchester has to offer. Well done to everyone exhibiting in this art exhibition, it is truly remarkable.
I also thought the exhibition was beautifully laid out. The gallery itself is a very bright, spacious and airy space. I thought this exhibition was very interesting and it was really unique to see a collection of work that connects so many Greater Manchester artists. You only have until
11th September
before it closes so do check it out! #AModestShow #BAS9 #FayreShareFayre