In her latest blog Venture Arts artist Louise Hewitt visits The Whitworth to explore their wallpaper exhibition, 'Open House'. 
Louise is passionate about art and culture, visiting Manchester's wealth of museums and galleries to gain inspiration for her own art and to write her bi-monthly Venture Arts blog...
I love the The Whitworth Art Gallery, partly because it's located inside Whitworth Park. which is on Oxford Road. It was founded in 1889, the first English gallery to be located inside a park. It also has good public transport to the venue. The
Open House
exhibition, which is located on the lower level of the gallery is about wallpaper, which began to arrive in 1967. Today the gallery houses a collection of around 10,000 examples. These samples range from cheap and cheerful to luxury. It gives you a glimpse into how wallpaper has changed through the decades of history. Most of these samples have come from factories that have ceased production on these lines.
I wanted to visit this art exhibition as I had seen it advertised on the gallery website and thought it looked interesting. It reminded me of the wallpaper I had seen at
Elizabeth Gaskell's House
during my time their as a volunteer and on my Cultural Enrichment placement with Venture Arts.
The artwork that inspired me in this art exhibition was by the designer David Bartle and the manufacturer was Arthur Anderson and Sons. The title for the wallpaper design was Hercuba (1967) and the colours were pink, green and red (I'm pictured with it below). These colours look beautiful together and makes me wonder whether or not I should be a bit more daring with my colours in my future artwork pieces. I think I will need to do a bit more research into this. The artwork that I felt most connected to in this art exhibition was by the designer Alan Dunn and the manufacturer for this design was Crown and the title was Fandre (1971). The colours in this design were blues and greens and again reminded me of the wallpaper I saw in the Drawing Room at Elizabeth Gaskell's House.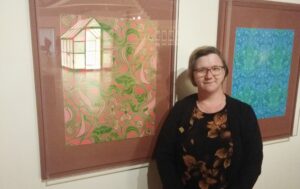 The cafe at The Whitworth has a lovely atmosphere with a mini terrace to sit outside on. The cafe is located at the back of the gallery on the lower main floor level. I tried the triple chocolate cake and had a vanilla latte coffee. They are both really lovely and delicious. However the only negative to the experience was that it was very pricey, £6.15 for two items, ouch - not doing that again. My overall thoughts of the exhibition are that it was rather interesting to see how much variety of wallpaper there is and how it has evolved into beautiful and elegant art, instead of plain old dull and boring. I think people should definitely visit 'Open House' as it has quite large open spaced galleries. There are quite a few interesting exhibitions going on at The Whitworth at the moment too. I have decided to come back here again as there is another exhibition I would like to check out called, 'Fayre Share Fayre', which features Venture Arts artists. Watch this space for my next blog! 'Open House' runs until the end of December 2022. If you are wondering what else is on at The Whitworth my advice would be to check out the
gallery's website here. 
#WhitworthOpenHouse