It's Learning Disability Week 2021 and another opportunity for us to celebrate the work of our artists. 
Our Public Engagement Assistant, Amber Okpa-Stother, is a neurodivergent artist herself and works hard in her role to advocate for people with learning disabilities. She has produced two videos showcasing our artists' work and also her own individual achievements. You can
watch them here. 
Amber has also written the following blog about the importance of employing a diverse workforce, something we are passionate about at Venture Arts.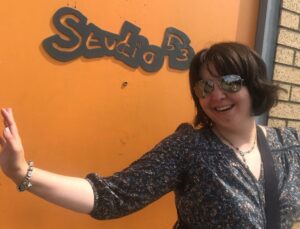 Benefits of employing someone with a learning disability
By Amber Okpa-Stother
"I am going to talk about why it is good for employers to employ someone with a learning disability, and I am going to give you my top ten tips for working with people with a disability. The reason why I think it's good to employ people with a learning disability is they often have really good skills that might be good for the job, like remembering things that people might have forgotten and being very organised. Employing a person with a learning disability helps those person to be more independent as they have a job and are able to earn money. It's also really good for your organisation to learn from different types of people. But you may need to work with them slightly differently. Here are my
top ten tips of how you can best work with a person with a learning disability
: 1. Be patient as people with a learning disability need time to process things. 2. Don't use jargon and speak clearly. 3. If someone doesn't understand something then repeat what you have said to them again. 4. Don't assume people with a learning disability can't do things. 5. Believe in them and they will achieve more. 6. Treat them how you would like to be treated. 7. Treat them with respect. 8. If they need more time to do work then let them have the time. 9. Don't give them too much information at once - break it up bit by bit so it's not too much information at one go. 10. Bullet point information so it's simple. Using these ten tips will help a person with a disability. In my case staff at Venture Arts follow these points when I am working with them and it makes things easier. It means that I am able to get the most out of working for them. I spoke to our Director, Amanda Sutton, and she told me;
"With employment rates at under 5% for learning disabled people, something positive has to be done soon to make change happen. The cultural sector is a great place to start, but we all need to be more open in how and who we recruit. From personal experience, having Amber on our team has been a totally enriching experience and helped our organisation to grow. Workplaces may need to make modifications to working practices to ensure that people can work to their strengths, but isn't that a good way of working for all of us?"
I agree with Amanda - if work places make changes in their working practice then people with learning disabilities can get the most out of working with an organisation, and the organisation will get the most out of them." For more information on this subject read:
Breaking Myths About Neurodiversity: The benefits of cognitive diversity at work
, written by
Ezra.
The definitive guide to disability inclusion in the workplace from Ben.