HOME's biennial celebration of creativity is open, showcasing the creative talent seen across Greater Manchester.
We are incredibly proud to have 13 artists exhibiting in the exhibition. Congratulations to
Amy Ellison, Andrew Johnstone, Bilal Khan, Danielle Dalton, Deborah Makinde, Emma Horton, Horace Lindezey, Jennie Franklin, Leslie Thompson, Lou Nicole, Matthew Bell, Rahima Imtiaz and Terry Williams.
Artist Rahima Imtiaz has also been shortlisted for the 'Granada Foundation Gallery Exhibition' award for her piece, 'Covid During Lockdown' (pictured below).
Find out more.
We sent Amber, previous Venture Arts artist and now Public Engagement Assistant, to review the exhibition at the launch event and share her thoughts. "When I went to HOME I really enjoyed seeing all the artist's work and thought it was lovely seeing everyone come together as they have not been able to since lockdown. It was really nice to chat to many of the artists. Rahima, who is shortlisted for an award told me she was really proud of her work in the exhibition, and so was her mum! I would like to say good luck to Rahima, you should be really proud being shortlisted for an award. Even if you don't win, I think you should be proud of yourself for being shortlisted.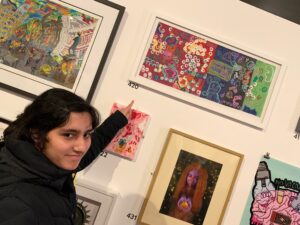 One of our tutors at Venture Arts, Laura Nathan, and her daughter have some work in the exhibition. Laura's work was a hand stitched piece which I liked. I loved the pattern on it, it stood out to me and the colours go well together. Laura's daughter should feel really proud of herself as she was the youngest person so have art in the exhibition.
I love Emma Horton's firework piece, 'Katy Perry' (pictured above) and it reminds me of bonfire night, which is one of my favourite nights of the year. One of my other favourite pieces was Horace's ceramic bus because I love transport and all the different types. I also enjoyed Amy's print of 'Kylie Platt' from Coronation Street, as I think the colours really go together. Well done Amy you should be proud of your print. I would really recommend going to see the exhibition as it is really fun to see it with all the family. It is on until
27th March
, so you have plenty of time to see it".
The Manchester Open is free to attend but you need to book tickets on the HOME website here.