We're thrilled to announce that our partnership with
Barry Bennet Ltd
(a leading supplier of assistive technology and support
)
has been honoured with the award for
Best Business Partnership
at the
Manchester Culture Awards 2022.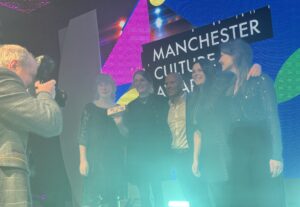 We started working with our friends at Barry Bennett Ltd back in January of 2021, when their staff completed a Step Challenge to raise money for our campaign during the pandemic. They have gone on to
commission a commemorative blue plaque
from artist
Horace Lindezey
, sponsor our 2021 exhibition, 'Completely A Hustling Place', and raise thousands of pounds through taking part in the Great Manchester Run.
Donations from Barry Bennett Ltd have been absolutely crucial to us over the past two years and by commissioning work from our
artists,
Barry Bennett
have helped the sector to not only flourish, but to be more inclusive and accessible.
Barry Bennett staff say that they have a greater understanding of the role learning disabled people can play in society
because of
the
partnership
, and our artists have been enabled with more high-profile
opportunities to showcase their work. 
Antony Bennett, Managing Director of Barry Bennett, said:
"We have been on a very special journey with our nominated charity partners, Venture Arts, during the last two years.  Winning Best Business Partnership at the Manchester Culture awards is a real honour and a testament to the relationship we have developed.  We are very much looking forward to working with them on future initiatives in 2023."
The Manchester Culture Awards celebrate the very best of Manchester's cultural offer including the work of individuals, cultural projects and organisations, and recognise the huge contribution that the cultural sector makes to the city's economy, making Manchester a vibrant place that people want to live in, work, and visit. We're hugely grateful and thrilled to see our partnership with Barry Bennett acknowledged with an award! Congratulations to all the other Manchester Culture Award winners, it was a proud night for Manchester.
#MCRCultureAwards